Berwick Infirmary maternity unit closes due to fall in births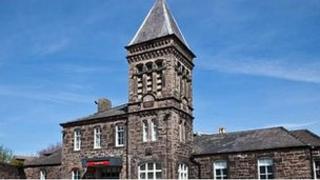 The maternity unit at Berwick Infirmary in Northumberland is to close because of a big fall in births.
Northumbria Healthcare NHS Foundation Trust said the temporary measure would take effect from 1 August.
The closure decision follows a drop in the number of births at the infirmary from 23 in 2010/2011 to just 13 over the past 12 months.
No staff will lose their jobs and antenatal and postnatal clinics will continue to operate at the hospital.
Currently women are deciding to give birth at obstetric-led units across the Borders, in Scotland or at Wansbeck Hospital in Ashington, the trust said.
Trust medical director Dave Evans, said it had been a "difficult decision."
He said: "With such a low volume of births, our midwives are simply not getting enough opportunities to regularly practice their essential birthing skills which are paramount in being able to deliver high-quality, safe and effective midwifery care."
He acknowledged it would be "disappointing" for some families, but said that "the reduced volume in births has given us a real cause for concern which we must act upon".
Kath Mannion, Local Supervising Authority Midwifery Officer for the North East of England, said closure was the only way to ensure high-quality midwifery.
A spokeswoman for the Royal College of Midwives (RCM) said: "We are aware that the numbers have been falling for some time and it is important to ensure the safety of mums."