Rail station gets new canopies to maximise light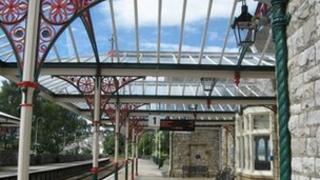 Glass canopies at a Victorian station in Cumbria have undergone a £250,000 revamp to let in more light.
Network Rail has reglazed the glass at Grange-over-sands station which is maximising sunlight during the "dull summer" so far.
The work has also included replacing guttering as well as repairing and replacing steel and timber support beams.
Parts of the station have also been repainted red, green and cream.
Andy Morgan, spokesman for Network Rail, said: "We are making the most of what little sunshine there is during the dull and wet British summer.
"This is a fine old station that has remained largely unchanged for nearly 150 years, and we have tried to be sympathetic to the original design when carrying out renovations."