Teenager buried in Bamburgh sand dune up to neck for two hours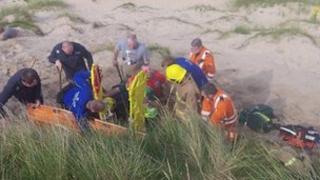 Rescuers spent more than two hours freeing a 14-year-old boy after he became trapped in a sand dune on the Northumberland coast.
The boy was on holiday from Lincolnshire and at Budle Point, near Bamburgh, when a sand dune collapsed and part buried him on Sunday.
Emergency crews dug him out after he became buried up to his neck.
A Great North Air Ambulance Service (GNAAS) spokesman said digging in the dunes can be a "very real danger".
The teenager was taken to hospital for a check up and was found to be in a stable condition.
There was a similar incident at Druridge Bay in March when a 32-year-old man was trapped in a 10ft (3m) hole up to his head.
A GNAAS spokesman said: "The dunes have enormous weight behind them and can be very unstable.
"Twice this year we have airlifted people who had become trapped, and twice they were lucky to be pulled free.
"Whilst it is great to see so many people enjoying the beautiful Northumberland coast, it is important that people are aware of the very real danger of digging in the dunes."