Northumbrian Water invests £1m into Morpeth flood prevention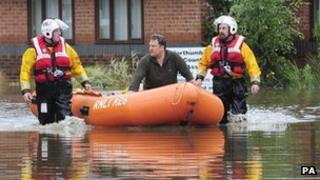 Work to reduce the likelihood of flooding in a Northumberland town is to begin next month.
Northumbrian Water plans to invest £1 million to upgrade the sewer network in the Bennett's Walk area of Morpeth.
The company said the work would include constructing a combined sewer overflow and sewage pumping station.
Approved by the Environment Agency, these discharge diluted waste water into watercourses during very heavy rainfall, to protect surrounding land.
The company's project manager, Paul Davison said: "We are committed to working with other agencies to tackle flooding issues."
The work will begin on 6 September and take up to five months.