American signal crayfish invade Northumberland river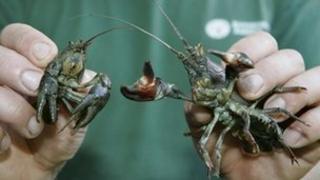 An invasion of American crayfish in a Northumberland river could have a "devastating" impact on the native species, the Environment Agency warned.
A large population of American signal crayfish has been confirmed in the River Blyth.
The bigger and more aggressive American species could "out-compete" the native white-clawed crayfish on the neighbouring River Wansbeck.
The agency is appealing for river users to help stop the species spreading.
Signal crayfish carry a fungal disease known as crayfish plague that has wiped out the native crayfish from most rivers in the south of England.
An Environment Agency spokesman said: "We don't yet know how far the signal crayfish have spread, but the numbers we have found recently are not good news.
"It is impossible to totally eradicate populations of signal crayfish. All we can do now is try our best to contain them and stop them from spreading, to help protect our native crayfish.
"We're calling on all river users and anglers who fish the River Blyth to help us by checking, cleaning and drying all their fishing tackle and footwear thoroughly, so that we can halt the spread of the disease that the signal crayfish carry.
"In the North East we still have native populations which are holding out against the invasion, and we want to keep it that way."