Police and crime commissioner elections: Durham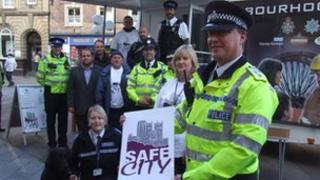 On 15 November 37 police and crime commissioners will be elected in England, along with four in Wales.
The PCCs, as they will be known, will be tasked with scrutinising their force and holding it to account. They will also be able to hire and dismiss the chief constable and set the force's budget.
The commissioners will be paid and are supposed to empower local people into having a say on how crime is tackled in their area.
Nominations for candidates in Durham have now officially closed.
BBC News has taken a look at each of the police forces ahead of the elections.
Durham Constabulary
Durham Constabulary is responsible for policing County Durham and Darlington, covering an area of 860 sq miles (2,232 sq km) with a population of 611,000 people.
The force area includes a number of smaller towns and villages, and the rural areas of Weardale and Teesdale.
The area is largely rural and more than half of its residents live in settlements of less than 10,000 people throughout 147 neighbourhoods.
There are 12 main towns with police stations and more than 260 smaller towns and villages, many of which are former colliery villages.
Durham Constabulary is led by Chief Constable Mike Barton, who took over following the retirement of Jon Stoddart at the beginning of October.
The constabulary's current staffing is almost 1,400 police officers, 815 police staff and 170 police community support officers.
The neighbouring forces are Northumbria, Cleveland, Cumbria and North Yorkshire.
The Cleveland and Durham Specialist Operations Unit is a joint unit covering roads policing, firearms and other specialist functions.
Funding
In its Revenue and Capital Budgets for 2012-2013, Durham Police Authority set out these key points:
A net expenditure requirement (the amount to be met from government grants and council taxpayers) of £116,085,000
The council tax at Band D was frozen for the second year running at £153.41
Planned spending on capital projects of £9.9m - an increase of £4.7m when compared with 2011-12
The full Durham Police Authority Revenue and Capital Budgets for 2012-2013 can be accessed here.
In October 2010, the government announced that the central funding provided to the police service would fall by 20% in the four years between March 2011 and March 2015.
The amount Durham Constabulary will need to save between 2011 and 2015 (based on the constabulary's calculations) is £23m.
There are 12 forces in England and Wales with larger savings to make as a proportion of their budget.
The constabulary has made savings through freezing police officer recruitment, deleting some police staff vacancies and making savings on non-staff budgets.
In 2010-11 it announced compulsory redundancies for police staff and a force restructure.
Between August 2010 and July 2011 there were 139 police staff redundancies - 51 compulsory and 88 voluntary.
The constabulary said that while the force restructure was not driven by the budget reductions, it had led to operational efficiencies.
Earlier in 2012 it reinstated police officer recruitment.
Crime and performance
In November and December 2011, Durham Police Authority invited all residents, organisations and groups in County Durham and Darlington to have their say on policing and community safety priorities for 2012-13.
The police authority then set out the strategic focus for Durham Constabulary on the top three priorities from that public consultation:
Tackling anti-social behaviour in partnership
Reducing the impact of alcohol abuse on people and communities
Protecting vulnerable people from harm
While these were the top three priorities, other issues being tackled are drug abuse, metal theft and burglary.
According to the Durham Police Authority, the key performance indicators for 2011-12 were:
Crime reduction is 2% with about 700 fewer victims and the lowest crime figures since 1983
Metal thefts have reduced by 56% since August 2011
Domestic burglaries have fallen by 9%, theft of vehicles by 26% and criminal damage by 12%
Drug offences down by 2%
Violent crime, (violence against the person, sexual offences & robbery) down by 8%
Anti-social behaviour has fallen by 27% over the past two years
The Police Authority's full Performance Indicators 2011-12 in its End of Year Report can be read here.
The Adobe Acrobat Reader plug-in might needed to be downloaded to view this information.