Missing Memphis the parrot back home with 'Elvis'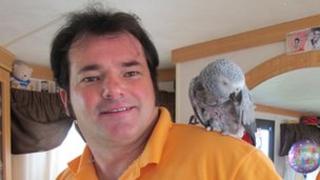 An Elvis impersonator says he is "overjoyed" after his parrot Memphis turned up a mile from his Cumbrian home a year after going missing.
The African Grey disappeared from the caravan of his owner, Stevie Las Vegas, of Silloth, last September.
For weeks local firefighters, milk deliverers and police officers scoured Silloth for the missing bird.
Then three days ago Memphis was spotted up a tree shouting "cheeky" phrases and is back home, battered but alive.
Mr Las Vegas, 45, said he had given up hope of being reunited with the six-year-old bird, who he reared from a chick.
He said he believed he had either been mistreated or been in lots of fights with other birds because he had suffered a gash on his breast and had several missing claws.
'Show us your knickers'
Mr Las Vegas said: "I searched for him for three weeks getting soaked in awful weather looking in outhouses, every morning, very early.
"Everyone in Silloth was looking for Memphis - firefighters, local bobbies, our milkman and the postman, but we couldn't find him.
"Then three days ago I got a phone call to say a parrot had been spotted up a tree at a nearby caravan park, shouting 'show us your knickers'.
"I climbed up a ladder to get a better look and Memphis said 'hello son' in my voice then climbed on to my shoulder. It was a very emotional moment."
Memphis is now back home with Mr Las Vegas and his wife Marie and their children Dee, 15, and Declan, 10.
His owner said: "He is withdrawn at the moment and sleeping a lot, but hopefully he will be back to normal, whistling tunes."