Television viewers in the Tyne Tees region go digital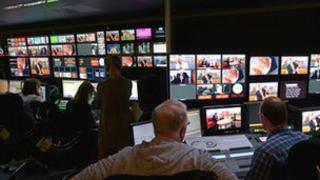 Television viewers in the North East of England and parts of Cumbria and North Yorkshire will switch over to a digital signal from 12 September.
Analogue services in the Tyne Tees region will be switched off in two stages. The second stage will take place on 26 September.
The area is served by the main Chatton, Pontop Pike and Bilsdale transmitters and 33 relay sites.
This completes the transfer to digital television signals in England.
Radio signals are not affected by the switchover.
At stage one, analogue BBC Two will be switched off and the first group of Freeview digital channels will become available from relay transmitters for the first time.
At stage two, the remaining analogue channels will be permanently switched off and replaced with additional digital TV, radio and text services.
Viewers can check their switchover date and options for getting digital TV by using the Digital UK website postcode checker or by ringing 08456 50 50 50.
The UK's conversion to digital TV began in October 2007 in the Cumbrian town of Whitehaven.
Digital UK is the non-profit company set up by the government to oversee the transition.