Lalique vase valued at £30,000 sells for £280,000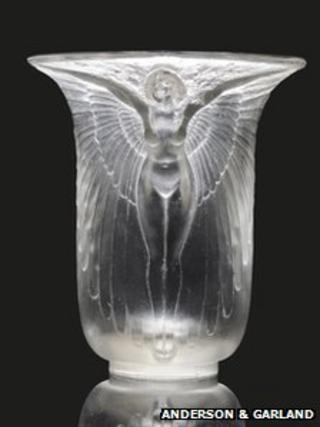 A Lalique vase has sold at auction for £280,000 - after experts valued it at between £20,000 and £30,000.
The glass vase, found at a house in Morpeth, has become the most expensive work of art sold in the North East, according to an auctioneer.
The 16cm (six-and-a-quarter inch) artwork featuring two winged female nudes with outstretched arms, was sold to a private collector in the US.
It is thought to have been used to store flowers.
Julian Thomson, director at Anderson and Garland, said: "It's a fantastic result and great for the North East for the vase to have been sold here.
"Prior to the sale of the Lalique, the most expensive work of art ever sold in the region was an Imperial Kangxi celadon water pot that went for £270,000."