Bid to halt City of Adelaide rudder moving to Australia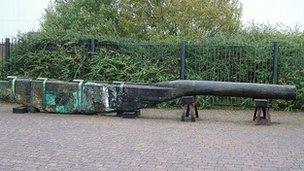 Campaigners are hoping to block the export of part of a 148-year-old clipper ship from the UK to Australia.
The City of Adelaide was built in Sunderland in 1864, but has lain on a Scottish slipway since 1992.
A group from Adelaide, Australia, won a bid to turn the ship into a heritage and tourist attraction in 2010.
The vessel's 30ft (9m) rudder is to be the first section shipped to Australia, but a rival group from Sunderland is calling for that to be halted.
The Sunderland City of Adelaide Recovery Fund (Scarf) want the vessel to return to the city where it was built as a maritime attraction and museum.
But its owners, the Scottish Maritime Museum and Historic Scotland, said the group's plans were not technically feasible or properly costed.
The rudder, which became separated from the crumbling ship in 1988, has been approved for its journey to Australia and is due to leave within the next few weeks.
But Peter Maddison, from Scarf, said the rudder's move out of the UK would be "devastating" for the country's maritime history.
Mr Maddison, who occupied the vessel for a month earlier this year, said: "We cannot simply allow the rudder to disappear out of the country without explanation.
"Apart from the ship's figurehead and perhaps the wheel and bell, the rudder is of great symbolic and practical importance."
He said Scarf was seeking legal advice in an effort to block the rudder's planned journey to Australia.
Director of the City of Adelaide project in Australia, Peter Christopher, said: "We expect the rudder to arrive at Port Adelaide by the end of October.
"The rudder is separate from the ship itself and we have had it in one of our shipping containers for some time.
"The ship itself should be lifted and weighed in October or early November, then treated to meet quarantine requirements. Shipping will then be arranged."
A spokesman for the Scottish Maritime Museum said: "All the necessary work has been done to allow the rudder to leave for Australia."
Related Internet Links
The BBC is not responsible for the content of external sites.