Great North Run: Angela Telford beats cancer twice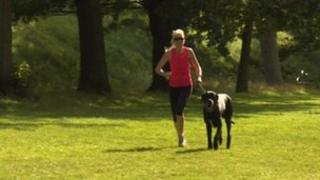 Among the 50,000-plus taking part in the Great North Run, there are many who have taken on the challenge after overcoming serious illness.
Quite a few will have been persuaded to pull on their trainers after beating cancer and they have often done so to raise money for cancer charities.
But there cannot be many like Angela Telford.
In 2009, she ran the race just four weeks after surgery to remove a tumour on her bladder.
Then in 2010, she ran the race just six weeks after surgeons carried out the second of two mastectomies following breast cancer.
'Bit of a shock'
So how does this 49-year-old grandmother best describe cancer?
"An inconvenience", she said. "That's what it is. An inconvenience that I could have done without".
Mrs Telford is a club runner, representing Blaydon Harriers.
She is a familiar figure around her home in Rowlands Gill, Gateshead, as she often takes one or more of her four Great Dane dogs with her on training runs.
"I take them from a rescue centre in Lincolnshire", she said. "And I take in what they call special needs dogs, which are the most difficult to rehome.
"They may be deaf, or have something else that makes them difficult to rehome. My house is ruined, but I love them.
"The first time I got cancer, it was a bit of a shock. I wasn't really expecting it, because I'd always been so fit. And my first question to the consultant was: 'Will I be able to do the Great North Run?'
"I didn't want it to be an inconvenience, so I just carried on as normal. I was training two weeks later, and then four weeks later, I did the run.
"The next time it happened, I was running really well. Then I got breast cancer. I was having radiotherapy, but I still ran every day during the radiotherapy.
"The first mastectomy was in the March of 2010, and the second one happened six weeks before the run.
"Again, it was my focus. The running kept me going. It took my mind off it, and if that can inspire anybody, that would be brilliant. I've just been for a check-up today, and the nurse told me about a patient that had the same as me, so they can tell that patient that it might not be as scary as they think it's going to be.
"In my case, I couldn't have had better treatment. I was at the Queen Elizabeth Hospital in Gateshead and the staff and facilities were brilliant.
"People are sometimes frightened to talk about cancer and they'll be nervous talking about it to me, so I just tell them that, for me, it was a load off my chest!"