Newcastle and Gateshead City Games attracts thousands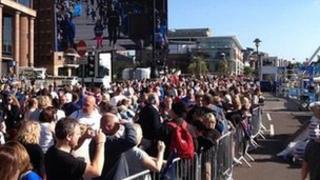 Nearly 6,000 took part in the mini and junior Great North Run and more than 700 people took part in the new Great North 5k, organisers have said.
The sporting events made up the City Games in Newcastle and Gateshead, all part of The Great North Run event.
The Great North Run half marathon will take place for the 31st time on Sunday.
Paralympic athlete Jade Jones took part in the wheelchair race and said she thought the large turn out was in part "down to the Olympics".
A spokesperson for the run said: "There has been a celebratory atmosphere today with record crowds watching the Great North City Games against the backdrop of the Newcastle and Gateshead Quayside."
Participants of the main event will run from the Central Motorway in Newcastle, across the Tyne Bridge, down the Felling Bypass and on to the John Reid Road to the coast at South Shields.
The race began as a fun run in 1981 attracting 12,000 runners, but this year organisers expect to see up to 55,000 people taking part.