Newcastle priest: Churchyard used as 'public toilet'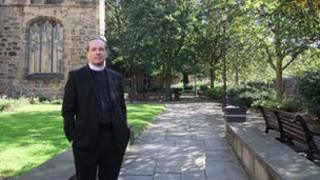 A Newcastle priest has begun a campaign to stop his churchyard being used as a "public toilet".
Reverend Dr Nicholas Buxton took over the 12th Century St John the Baptist church in the city centre in June.
He said he was shocked to find condoms, syringes and human excrement in the graveyard.
He wants to create a welcoming space for residents and office workers but said there was a "problem with anti-social behaviour in the churchyard".
'Can get aggressive'
"We've got a significant problem of people who come to the graveyard during the day to drink alcohol, and get into fights with other people there," he added.
"I tell them very firmly they are welcome but they must not drink here.
"Sometimes they're friendly and approachable but they can get aggressive and I have had to call police on a number of occasions."
Dr Buxton said he wanted to make sure people knew where to get help, and for there to be more public toilets in the city centre.
St John the Baptist, a Grade 1 listed building, is one of the oldest in the city and its churchyard is one of the few green spaces available for local residents who live in flats in the area.
Mini-garden hope
"I don't want people's first impression of this city to be a churchyard full of rubbish with people drinking and fighting," Dr Buxton said.
"I want a park or mini-garden where residents and office workers can relax and feel safe."
His plans include a community herb garden, seasonal markets, colourful night-time lighting and beehives on the church roof.
A statement from Safe Newcastle, made up of the council, police and fire service, said it was involved in "practical problem-solving" to try to reduce anti-social behaviour.
Insp Darren Sweeney said police took action when offences were committed, provided relevant support to people involved and and were working on a longer-term plan for "lasting improvements".
Newcastle City Council said the Use Our Loo scheme makes shop toilets available to members of the public and toilets were available in other public buildings in the city.