Safety cameras installed at Tyne & Wear Metro crossings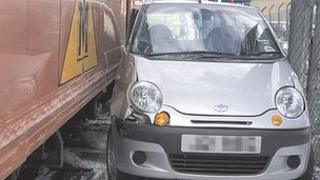 Number plate recognition cameras are being installed at level crossings on the Tyne and Wear Metro network to deter drivers from flouting red lights.
Despite no serious incident on the network since 2010, officials are worried motorists are regularly ignoring warning signs.
The cameras are similar to speed cameras and take two images of a vehicle's number plate for evidence.
They are being installed at Bank Foot, and Kingston Park in Newcastle.
A spokesman for Nexus, which owns and manages the network, said: "We want to deter anyone silly enough to think about jumping the stop lights at level crossings.
'Huge responsibility'
"Driving over when the stop warnings are activated is extremely dangerous. The trains may be approaching slowly but they can still do enormous damage at that speed.
"We want drivers to be aware of the dangers and not take any risks.
"Level crossing safety is of paramount importance. Drivers have a huge responsibility to stay alert when they are approaching them."
A spokesman for Northumbria Police said: "The installation of the cameras will make drivers think twice before making that split-second decision which could ultimately put their life and the lives of others at risk.
"The thought they are being watched and will be fined for breaching the warning lights and sirens will hopefully prevent them from flouting the law."
Level crossings on the Metro system are open and do not have barriers or gates and are protected by flashing red "stop" signals and audible alarms.
Nexus said it had no plans to put barriers at any of the crossings.