Northumberlandia: Naked sculpture open daily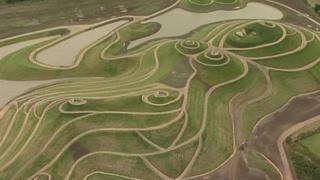 Members of the public are to be allowed daily access to a huge reclining naked woman sculpted into the Northumberland landscape.
Northumberlandia, near Cramlington, has been shaped from the rock and waste from a surface mine.
The 1,300ft (396m) long sculpture was officially opened by the Princess Royal on 3 September, and has been accessible to the public on selected days.
It will now be open to walkers daily from dawn to dusk.
The sculpture, which took two years to construct, was formed as a legacy to compensate for the disruption caused by coal extraction at what was the largest mine of its kind in England.
To mark the daily opening, a community event is being held at the site on Saturday, with local food and entertainment.
It has been organised by the Land Trust, a charity which manages open spaces on behalf of and in partnership with local communities.
Chief executive Euan Hall described it as the first of many on the "stunningly unique venue".