Cattle to boost Kielder Forest wildlife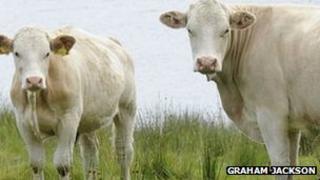 Cattle are being used in bid to encourage wildlife in a Northumberland forest.
A number of Simmental cattle will be grazing in an area of grassland in Kielder Water and Forest Park.
It is hoped their tramping and dung will lead to a more diverse eco-system on the site at Plashetts, part of which is ancient semi-natural woodland.
Kielder is home to the biggest man-made lake in northern Europe and the biggest working forest in England.
Its 250 square miles, which contain eight ancient woodland sites, also produces 25% of all English grown timber.
Tom Dearnley, from the Forestry Commission, said: "Wood pasture is a rare habitat in Northumberland and this is a really great opportunity to see how livestock influences native woodland eco-systems.
"Among species which could benefit are plants such as orchids and insects that live in sheltered grassland glades, like the small-pearl bordered fritillary butterfly."