County Durham and German officials share flood experiences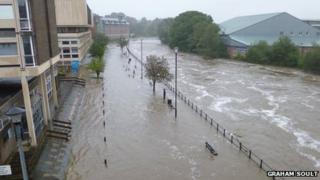 Flood experts from Germany are visiting County Durham to share ideas on ways of responding to weather emergencies.
The county experienced two severe weather events recently, and the Kreis Wesel area is also prone to flooding.
Its head of civil contingencies and the deputy fire chief are taking part in the three-day visit.
The council will be hearing how German emergency services make extensive use of the voluntary and community sectors during such incidents.
The visit is part of the European Union Leonardo Project, which funds practical projects in the field of vocational education and training.
In June and again in September, torrential rain caused problems across the North East
On both occasions, properties were flooded and travel disrupted.