Child heart unit review: Freeman Hospital boss positive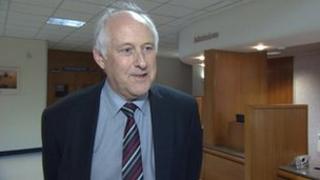 The chief executive of Newcastle's Freeman Hospital says a review into the closure of three children's heart surgery units will be an "endorsement" of the original decision.
Health Secretary Jeremy Hunt ordered a review into plans to close three units, in Leeds, Leicester and Brompton.
Sir Leonard Fenwick said the government was only seeking "further assurances".
The Freeman's heart unit was chosen to stay open after a review of services currently offered across England.
Mr Fenwick said: "I believe there will be endorsement for the original decision, that it was well put together, appropriately considered and in the public interest.
'Profoundly depressing'
"They made a very good and positive decision which was evidence based, but there are still doubts in relation to the full comprehensive understanding of the impact of these service changes and I just believe that the government is seeking further assurances in that regard.
"We are very, very positive, we are continuing to invest and I firmly believe our services here will go from strength to strength. I believe we will see this through and move forward."
However, Newcastle East Labour MP Nick Brown, said he has "confidence" in the advice that was given by clinicians and thinks it is "wrong" to review it.
He said: "We should listen to them and implement their recommendations.
"My anxiety is that the judgement of clinicians will be replaced with a judgement of political lobbyists and that will be quite wrong.
"It's profoundly depressing."
Child heart surgery at the Freeman was one of six services in England examined after an NHS review decided medical expertise was being spread too thinly.
The Independent Reconfiguration Panel (IRP) has been asked to look in detail at how the decisions were reached.
It has been asked to report its findings by 28 February.