Durham to stage Lumiere light festival for third time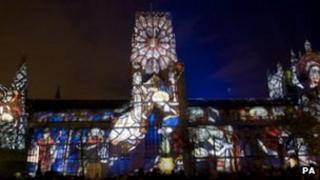 The Lumiere festival of light is returning to Durham in 2013, following two successful events in 2009 and 2011.
The festival will take place over four nights, from 14 to 17 November.
In 2011, the festival turned buildings and bridges in Durham into illuminated works of art.
Durham County Council said the last Lumiere event created more than £4m for the local economy and found a "compelling case" for staging the event again.
Artists will work in the medium of light in its many forms, using the city as their canvas.
A full programme of details for the festival will be revealed next year.
Simon Henig, Leader of Durham County Council said: "Lumiere has been a huge success when it has been staged here and people will already be putting the dates into their diaries to ensure they do not miss out."