Jonathan Burke family pays tribute to 'incredible man'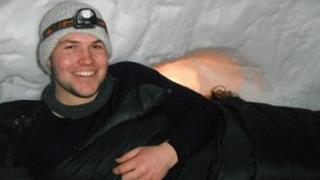 The family of a driver killed in a crash on Wearside has paid tribute to an "incredible man".
Jonathan Burke was fatally injured when his car crashed into a parked ambulance on the A1231 in Washington, near Sunderland, on Sunday.
The 21-year-old electrician of the Parks, Chester-le-Street, was taken to hospital but later died.
The crew of the ambulance was attending a separate crash in which four people in another car were hurt.
Mr Burke's family said his great passion for the outdoors and bushcraft skills took him all over Britain and to the US.
They said in a statement said: "Jonathan was an incredible young man.
"He will be missed by many friends and colleagues.
"His family are heartbroken at the tragic and sudden loss of such a generous and loving son, brother and grandson."