Durham PCC: Ron Hogg elected for Labour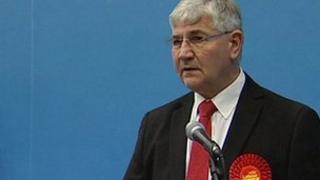 Labour candidate Ron Hogg has won the race to become Durham's first police and crime commissioner (PCC).
Independent Kingsley Smith came second, UKIP's Mike Costello was third and Conservative Nick Varley finished fourth.
Mr Hogg was a senior police officer in Durham and Cleveland during a 30-year career.
He will appoint a new permanent chief constable and set the force's budget and priorities.
Mike Barton is currently in temporary charge of the force following the retirement of Jon Stoddart last month.
Policing hooligans
Mr Hogg was assistant chief constable in Durham and deputy chief with neighbouring Cleveland before he retired in 2008.
He became an expert on policing football hooligans and worked at international tournaments including the 2002 World Cup in South Korea and Japan.
After his win, he said: "There was a YouGov poll which said 60% of the electorate wished their commissioner to be an ex-police officer.
"When I have been out campaigning people have been very happy about my police credentials.
"The common retort has been 'at least you will know what you are talking about' and that does make a big difference."
'Flexible approach'
Durham does not have any fixed speed cameras, but Mr Hogg said he did not plan to push for them to be re-introduced and he believed in continuing to use mobile cameras in vans.
"Speed cameras are there to solve a problem, and once solved you should move on," he said.
"I would want a flexible approach with mobile camera vans."