Newcastle Council cuts 1,300 jobs to save £90m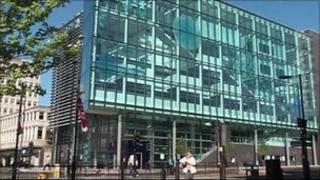 More than 1,300 jobs are to be axed by a North East council struggling to trim £90m from its budget.
Newcastle City Council - which employs 10,500 staff - will also shut 10 libraries, although it said its new £24m city centre library was safe.
A spokesman blamed rising costs and a greater demand for services for the cuts.
Leader of the Labour-run council, Nick Forbes, said it was "one of the darkest days for public service in Newcastle".
But there was some good news - the council is to freeze council tax to help "hard-pressed" families, a spokesman said.
'Impossible position'
Mr Forbes said: "This is one of the darkest days for public service in Newcastle. Cutting services is not what I went into politics to do.
"The cut in government grant is grossly unfair - at a time when more and more families are turning to us for help.
"Financially, this has put us in an impossible position from which there is no escape.
"We will not abandon the residents of this city, but as we cease to provide some services they will have to do more for themselves and expect less from the council.
"We remain a very ambitious city; focused on attracting and growing new businesses for employment."
The council is also planning to shut Newcastle City Pool, which is in need of major repairs.
It is also considering changing weekly bin collections to fortnightly.