WWI letter in garden sparks search for soldier's family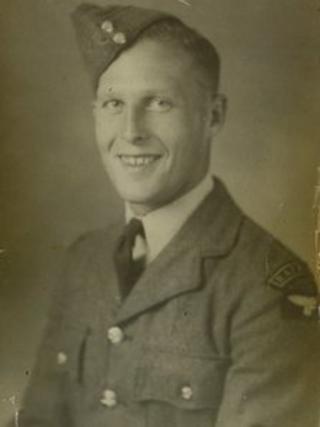 The relatives of a World War I soldier whose letter was found in a South Tyneside back garden are being sought.
The letter, dated 15 September 1918, describes items the soldier has found on the battlefields.
Two photographs were also found during the garden clear-out by South Tyneside Council at a property in Lake View, Hebburn.
The council now wants to find the relatives of the young soldier to return the "treasured memories".
In the letter, the soldier writes: "I have a fine little German automatic revolver which I could get £5 for out here if I wished to sell it.
"I could get plenty valuable souvenirs but I can't be bothered carrying them."
'Piece of history'
While some of the writing is too faded with age to read, the signature of Jack Ringwood is still legible.
It is not known whether the soldier pictured in the photographs is the author of the letter.
One of the photographs is dated 21 August 1943 - during World War II - and has a name and address in Essex handwritten on the back.
The items were found in the garden of a house being prepared by the council for a new tenant.
Councillor Tracey Dixon said: "This letter and the photographs must have treasured memories attached to them and be of great sentimental value to someone out there.
"The letter is nearly 100 years old and is a piece of history.
"It would be lovely to reunite these items with relatives of this young soldier."