Hot spring hope to restore Tynemouth Outdoor Pool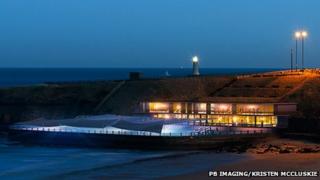 A Tyneside community group is hoping hot water will help its bid to return a derelict lido to its former glory.
Tynemouth Outdoor Pool, which opened in 1925, was a major tourist attraction in its heyday, but by the 1990s had fallen out of use and become an eyesore.
The council has now invited interested parties to submit bids for the site.
The Friends of Tynemouth Outdoor Pool is putting together a business plan, which could involve utilising a nearby underground geothermal spring.
North Tyneside Council website describes it as "a general area, comprising beach and headland" in a "prime seafront position.... well served with local amenities and transport routes, and with local shops and related facilities all within a few minutes' walk".
'Cracking team'
The deadline for sale or lease is 14 January, and interested parties must demonstrate a sustainable business plan.
Barry Bell, one of the founders of the Friends of Tynemouth Pool, said that "a cracking team of people" had got together with the aim of bringing it back into use as a swimming pool.
He said: "We've had a ton of support from all kinds of people and businesses who want to get involved, it's very much a community project.
"Some are bringing professional skills such as design, planning, law and accountancy, and they're all working completely for free."
One of the suggestions was using gas boilers to heat the pool.
"This would be expensive and likely to be only a short season of use," he admitted.
"Or we could use renewable energy, such as geothermal heating."
'Quite overwhelming'
"We've found out that there something known as the Ninety Fathom Fault which runs near Cullercoats, which if drilled down to would give a constant source of heated water for free.
"Newcastle University did tests at the Science City site and found something similar. It's on the same fault line, so it could work."
The plans could also include changing rooms and a cafe as well as other community space which could be used by schools.
Volunteers with fundraising or financial experience are looking at ways of raising the capital expenditure, which is "very roughly estimated" at about £5m.
Mr Bell said: "Support has ranged from people who've promised to turn up with a shovel and help clear it out, to offers for free advice from a major legal practice," he said.
"It's sparked so much imagination and passion that it's been quite overwhelming at times."