Gritting defended after North East road delays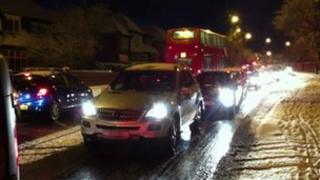 Councils in the north east of England have insisted they were prepared for the wintry weather after drivers suffered disruption.
Some drivers spent hours trying to get home on Tyneside, Wearside, County Durham and Northumberland after delays on Wednesday evening.
There was gridlock on many roads and some drivers questioned whether roads had been gritted.
But councils insisted they had been prepared and had treated roads.
One of those affected was Gary Beckwith from Stanley, in County Durham.
Gritters stuck
He said: "Sorry, the weather wasn't that bad. The roads were just untreated.
"It took me three hours to get from South Shields to Stanley."
Other drivers across the area also reported long delays to their journeys.
But councils said they had been prepared and roads had been treated.
Terry Collins, from Durham County Council, said it had planned ahead and gritters had been out from the early afternoon.
He said the council had not cut its winter maintenance budget.
Gateshead Council neighbourhood services manager Louise Hayward said she understood what people were saying but added their gritters had worked non stop.
'Difficult driving conditions'
She said roads had become crowded on Wednesday as people tried to get home in the bad weather and some gritters had got stuck. Difficulties had been caused by snow freezing on top of grit, she said.
Newcastle City Council and Northumberland County Council also said they had gritted roads.
On Thursday, drivers faced further disruption with hazardous driving conditions
Northumbria Police said that while no roads were closed, there were difficult driving conditions with queues reported on some major roads.
Police said traffic was moving more slowly than usual and advised motorists to allow extra time for their journeys.