Lynemouth Alcan power station sale could save 120 jobs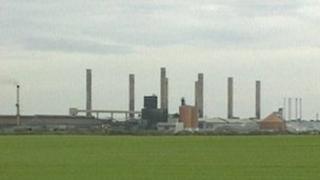 Up to 120 jobs could be saved if a deal to sell a Northumberland power station is successful.
About 500 workers lost their jobs when the Alcan aluminium smelter in Lynemouth shut down earlier this year because of mounting production costs.
But owners Rio Tinto Alcan say a deal to sell the smelter's adjoining coal-fired power station to German energy firm RWE is near completion.
The company plans to convert the station to a biomass facility.
John McCabe, regional economic development director for Rio Tinto Alcan, said: "We are hoping to conclude the deal to sell the power station to RWE before the end of this year.
"Since the closure of the smelter earlier this year we have been absolutely determined to complete the sale in order to secure employment for the workforce.
"The plant is still producing electricity for the grid system and has done since smelter closed. Once the sale is completed we would expect the plant to continue to supply power to the national grid."
Mr McCabe said negotiations were also under way to sell part of the smelter site to a vehicle and plant servicing company which would create up to 30 jobs.