County Durham bakery appeal for Edwardian equipment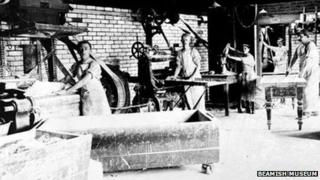 A County Durham museum is appealing for traditional cooking equipment to open an Edwardian bakery.
The bakery, currently being built at Beamish Museum, will be used to cook traditional recipes like cracknels, cottage loaves and Coburg Loaves.
The museum is searching for equipment such as a wooden proving cabinet, bread tins, dough dividers, tray racks, peels and rakes.
The bakery is expected to open in the museum's town next year.
Kate Reeder, keeper of social history and collections administration at Beamish Museum, said: "The outside of the building is nearly complete.
"We are looking to start fitting out the interior early in the new year.
"We'd like to get the items we're looking for as soon as possible in case we need to restore them."
'Books of time'
The bakery has been moved brick by brick to the museum from its original home in Annfield Plain Co-op in County Durham.
It will be named Herron's, which was the name of a real bakery in the Annfield Plain in Edwardian times.
Other parts of the store are already open at Beamish.
During the early 1900s, bakers recognised the nutritional and dietary value of gluten and wholegrain, which was included in the majority of their recipes.
Bread was usually sold in 2lb loaves and cakes, pastries and fancies were supplied fresh every morning.
Among the forgotten treats making a comeback in the museum's bakery is the Coburg loaf - which was scored with an X.
The cottage loaf had a distinctive shape - moulded in two pieces with the smaller piece on top of the larger piece. An elongated cottage loaf was known as a London brick loaf.
Cracknel was dried out bread that was produced the same way as biscuits, but they were boiled rather than baked.
Although a lot of the traditional bread, pies, biscuits and cakes from more than 100 years ago have now vanished, some items, like doughnuts, scones and fruit cake, are still around today.
Ms Reeder said: "We are using authentic Edwardian recipes taken from books of the time."