Car swerved to avoid vehicle before crashing into train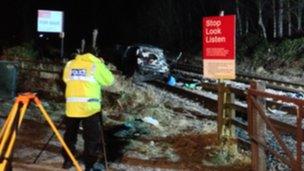 A car that crashed on to a railway line and hit a freight train in Northumberland is believed to have swerved to avoid another vehicle.
The Range Rover ended up on the rail line which runs alongside the A69, near Greenhead, on Wednesday.
A boy aged 11, who was a passenger in the car, is critically ill in hospital.
Northumbria Police believed his mother took evasive action to avoid another car in the wrong lane and are treating it as a hit-and-run case.
The woman was in the Range Rover with her two sons, the 11-year-old and a 15-year-old.
The mother and the older boy suffered minor injuries.
Police said after swerving, the Range Rover crossed the eastbound carriageway, going through a fence and hitting the side of the passing train.
Ch Insp Peter Reeve of Northumbria Police said: "It does not appear that the Range Rover was struck by the other vehicle before swerving off the road, however we are treating this as a hit and run."
He said that the crash had a "devastating" effect on the family involved and the police were appealing for witnesses to contact them.