North Sea dippers see in new year at Whitley Bay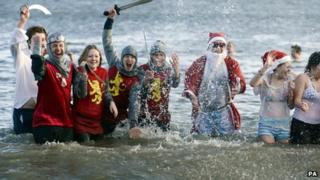 An estimated 200 people took to the North Sea off the coast of North Tyneside to welcome in the new year.
The New Year's Day dip, organised by the Panama Swimming Club at Whitley Bay, regularly attracts a host of people in fancy dress costumes.
Organisers said bright weather this year meant the number of people taking part was up on last year's 160.
Club member Carol Clewlow described the conditions as "the best for several years".
A whistle blown at 11:00 GMT was the signal for the dippers to enter the sea.
'Great for hangovers'
Ms Clewlow said: "The turnout has been very good today and better than last year.
"This has certainly been the best morning we have had for years. I've been taking part for six years and sometimes we have had to go into the sea with snow on the ground."
Members of the Panama Swimming Club have been going into the sea at Whitley Bay an average of three times a week for about 40 years.
Ms Clewlow added: "There is something about our new year swim which inspires people and the event has continued to grow over the years.
"Generally sea swimming is getting more popular so I think a lot of people are wanting to give our event a go. And it's great for hangovers."
The Panama Swimming Club is believed to have been founded in the 1930s and was named after a ship that was wrecked near Whitley Bay.