Historical road to Durham Cathedral restored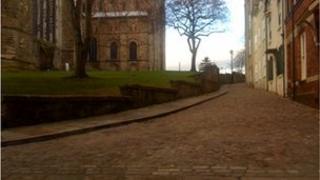 An historical road leading to Durham Cathedral and the city's World Heritage site has been restored.
Original river cobbles and stone flags have been reinstated in Dun Cow Lane, along with granite and York stone to maintain the area's character.
The £163,000 scheme was an extension of similar work on neighbouring Bow Lane.
Neil Foster, county council cabinet member for economic regeneration, said: "The workers' skills and eye for detail really stand out."
Dun Cow Lane runs from Palace Green to Kingsgate Bridge, which leads to New Elvet.
The council said the work was carried out after consultation with Durham University, residents and representatives from the cathedral.