Rescue inspires new RNLI lifeboat name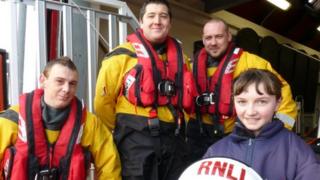 A teenager from Tyneside is to play a key part in the naming of one of the first in a new generation of lifeboats.
Rachel Fairhurst was the winner in an RNLI competition to come up with a name for the charity's latest and most advanced all-weather vessel.
The 13-year-old, from Gateshead, suggested "Storm Rider," after being inspired by the story of a rescue during severe weather in Newbiggin.
She said it would be "a real honour" to see her chosen name on a lifeboat.
The Shannon class is the RNLI's most advanced lifeboat and runs on water jets instead of propellers, making it more manoeuvrable in the water.
Following a naming ceremony in spring 2014 at the RNLI headquarters in Poole, Dorset, Storm Rider will be put into service as a relief boat to be used at any of the charity's lifeboat stations as needed.
'Brave souls'
Rachel said: "I can't wait to go to the naming ceremony and I know that I'll be too excited to sleep the night before.
"When we visited the [Newbiggin] centre there was a video about the lifeboat crew and how, years ago, the bell to call the lifeboat rang because a boat had been wrecked on the rocks.
'People left whatever they were doing and ran out of their homes to help launch the lifeboat, but it was very stormy and they couldn't get it launched. So the people dragged the lifeboat all the way back round up the slope and over the moor and launched it there.
"I chose the name Storm Rider because I thought about the fierce storm that night and how the townspeople were so brave and had so much spirit to drag the lifeboat all that way and to risk their own lives to save others.
"I imagined the lifeboat and all those brave souls in it riding the storm."