Hebburn comedy show 'a waste of money', says councillor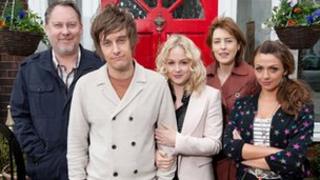 A BBC 2 comedy show set for a second series has been branded "a waste of money" by a councillor from the South Tyneside town the show is based on.
Hebburn, which regularly attracted 1.8m viewers during its first series, is based on the experiences of its creator Jason Cook, who grew up in the town.
The BBC has commissioned a second six-part series and a Christmas special.
However, Councillor John McCabe has criticised how characters and town itself were portrayed.
"It's not portraying Hebburn as the town that I know, that I live in and I serve in," he said.
"It shows the town in the wrong way. We don't need people walking around in vests, I'd rather show my town with links to people like [geologist] Arthur Holmes."
'Hebburn's best interests'
After publicly criticising the first episode, Mr McCabe said he had to "put himself through" watching the rest of the series.
"I watched the first episode in a social club with comrades and none of them found it humorous," he said.
"For me it's been a complete waste of three and a half hours of my time and it's a waste of taxpayers' money and licence fee payers money."
However, Mr Cook said he has had a very positive reaction.
"Obviously you don't want to upset anyone," he said.
"Councillor McCabe has the best interests of Hebburn at heart, but so do I."
"I could have called it anything and based it anywhere but I wanted to do something about my home town... I'm proud of where I've come from.
"It's got its faults but so does everywhere else and towards the end of the series people were so in love with it.
"The reaction I've had is about 99% love it."
The positive reaction has been shown on Twitter, including a congratulatory tweet from Hebburn Town FC.
Mr Cook said he is looking forward to creating the second series and answering the questions the first series left.
He said: "Very excited, we've known for a while. All of the characters will be coming back again. We're going to find out what Winny did - I'm the only person in the world that knows."
Kristian Smith, Executive Editor of BBC Comedy Commissioning, said: "Jason's creation is a brilliant piece of comedy and we're so lucky to have such a phenomenal cast bringing it all to life."