Professor Stephen Graham admits 'very silly' vandalism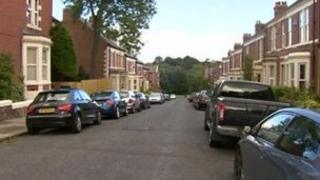 A university professor has admitted scrawling graffiti on cars causing thousands of pounds worth of damage.
Stephen Graham, who had been drinking, admitted four counts of criminal damage in Jesmond, Newcastle.
He used a screwdriver to scratch the words "very silly", "really wrong" and "arbitrary" on to 24 cars, Newcastle Crown Court heard.
The 47-year-old, of Jesmond, who works at the city's university, was bailed and will be sentenced on 25 February.
The cars included a Mercedes, an Audi, a Volvo and a Mitsubishi and the total damage totalled £18,000, the hearing heard.
'No recollection'
Graham, who is based at Newcastle University's school of architecture, planning and landscape, also asked for 23 similar offences to be taken into consideration.
Julian Smith, defending, said: "He has no recollection of the course of events that night."
The hearing heard that the spree took place in August 2011 in Northumberland Gardens, a few streets away from where Graham lived in Lansdowne Gardens.
He has previously blamed a bad reaction to alcohol, antibiotics and prescription drugs for his behaviour.