Sunderland church transformed into Canny Space gallery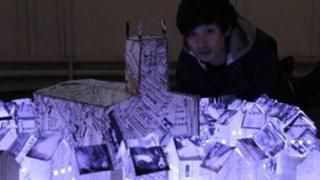 A group in Sunderland has developed a church into a heritage centre for the area.
Grade I listed Holy Trinity Church in Hendon was built in 1719 and was once at the heart of the community.
However, as people moved out of the area, the church was decommissioned in 1988.
More than 20 years later it has been turned into The Canny Space, a community venue for heritage, performance, education and learning.
Sunderland College has used the space to create a temporary art gallery showcasing art inspired from the background of the area.
Students worked closely with Living History North East (LHNE), one of the key partners in the development, to transform the inside of the church into an exhibition space.
Janette Hilton, director of LHNE, said: "Giving students the opportunity to access and work in this special heritage context has really brought out the best of their artistic talents and clearly demonstrates the potential of The Canny Space to contribute to the cultural life of the city."
The exhibition includes a mixture of painting, photography, sculpture and video installations.