Peter Hunter reunited with his wife after Algeria siege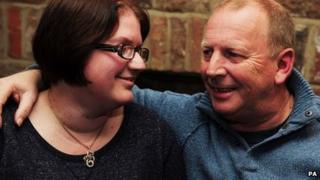 A survivor of the Algeria hostage siege has been reunited with his wife in County Durham.
Peter Hunter, 53, finally met up with his wife Kerry at Newcastle Airport in the early hours of Monday after he spent three days hiding at the gas plant in the Sahara.
The BP construction supervisor said the Algerian forces had done a "good job".
Mr Hunter followed company procedure and hid in a secret location after stocking up with water.
Garbled words
He said: "Everybody will have a different opinion about the army and the special forces but what they did for me, I have no complaints.
"People laid down their lives for this."
A raid by Algerian troops on Saturday ended the four-day siege at a gas plant near the town of In Amenas, in the east of the country, that is thought to have left as many as 48 hostages dead.
Mr Hunter was able to speak to his wife on Saturday and tell her he was safe.
"Nothing came out when I opened my mouth," he said.
"As soon as I heard Kerry's voice, my words were garbled. I told her I was OK, that I was safe and I was using a satellite phone."
Mrs Hunter, 41, was warned by police in the UK that the phone call may have been staged, and that the terrorists had forced him to tell her he was fine.
It was only in a later follow-up call that she was convinced he was safe.
Father-of-four Mr Hunter, who had worked in Algeria since 2011, hid with a Norwegian co-worker and relied on local colleagues to pass him information on what was happening.
"It was mid to late afternoon on Wednesday before we got information off some people that it was a terrorist attack," he said.
'I was fortunate'
"We were told they were looking for expatriates and to stay well covered and not to do anything crazy and not to make a run for it."
Local liaison staff eventually reassured Mr Hunter he was safe and he was taken to a military camp nearby.
Mr Hunter paid tribute to the colleagues who died.
He said: "I believe I was fortunate. I guess you could say I was not in the wrong place at the wrong time.
"Our thoughts are with the families of our British, Norwegian and other nationality colleagues who lost loved ones."