North East continues to be hit by snow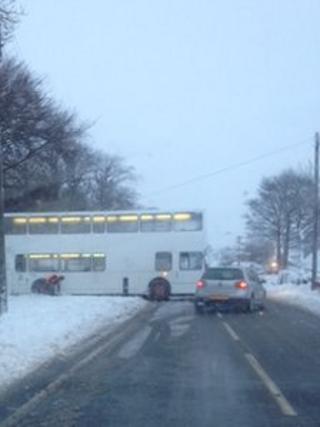 Drivers were advised to take care on the roads as icy conditions and snow remained across the north-east of England.
A fall in temperatures and continued snow made some early morning journeys difficult for road users.
Snow drifts caused problems in North Northumberland and several roads remained closed overnight.
Police said gritters and ploughs had been out through the night and most main roads are passable with care.
A section of the A68 near Kiln Pit Hill which was closed due to trees blocking the road, has now reopened.
The A68 from Stagshaw roundabout to the Scottish Border and the A696 in Northumberland between Knowesgate and the junction with the A68, have also reopened.
The Met Office has issued a yellow warning for snow, with 2-5cm of snow expected to fall in the North East, becoming lighter by the afternoon.