Derwick and Leslie Ramsey sentenced for bird disturbing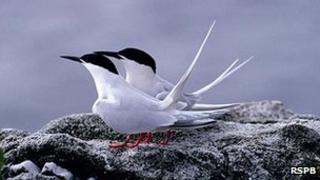 Two brothers who disturbed a colony of Britain's rarest breeding seabirds have been sentenced.
Derwick and Leslie Ramsey, of Amble, Northumberland, said they went to Coquet Island to collect shellfish and were unaware of nesting Roseate Terns.
Derwick, 43, was found guilty of recklessly disturbing nesting birds and Leslie, 41, pleaded guilty at Bedlington Magistrates' Court.
Both men received community orders and will be subject to a curfew.
The pair will also be electronically tagged.
'Do not go near'
The court heard Derwick Ramsey, of Dansfield Square, sailed to the Northumberland island on 20 July with some teenage relatives.
He was warned by a RSPB warden that landing on the seabird sanctuary was banned and he should not go near the 71 breeding birds.
But two days later he returned to the island with his brother Leslie, of Charles Road, Amble.
Leslie Ramsey pleaded guilty to recklessly disturbing birds under the Wildlife and Countryside Act 1981.
His community order was for one month and his older brother's was for three months.
Both men were ordered to pay the RSPB £75 costs, and Derwick Ramsey was fined £200.