Marine rescue centre for Tynemouth Blue Reef Aquarium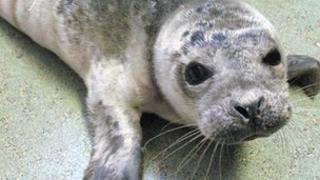 A new marine rescue centre on North Tyneside is set to provide emergency care for sick, injured or abandoned seal pups.
The purpose-built facility, at Tynemouth's Blue Reef Aquarium, will also care for other marine life.
The aquarium, working with the animal charity Pawz for Thought, has cared for more that 200 rescued seals over the past 10 years.
Growing demand has led to the decision to build a permanent unit.
Due to open in time for the Easter holidays, it will be able to accommodate up to six seal pups.
Soundproof windows will enable visitors to view the rescued animals, and signs will provide information on a variety of topics, including what to do if a stranded seal is spotted.