Newcastle gets ready to welcome latest French imports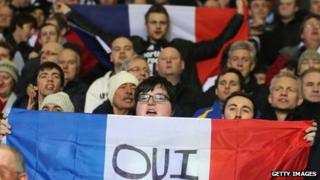 Tricolours were waved with enthusiasm by Newcastle United fans as their new signings from across the Channel celebrated a crucial win at Aston Villa on Tuesday.
Plenty more flags are expected on Saturday when four of the club's latest recruits could make their home debuts.
The Magpies signed five Frenchmen during the January transfer window, and passionate Geordies are busy doing all they can to welcome them to their city.
Newcastle announced earlier that its stores had sold out of club-branded berets as France fever takes hold.
And over the road from St James' Park, the popular Strawberry pub is getting into the spirit of things and has temporarily changed its name to La Fraise.
Owner Michael Hill says the new signage has gone down well with regulars.
'Light-hearted'
"Everybody is claiming it was their idea," he says.
"It's really put a smile on a lot of people's faces and that was the whole idea. You can be stood outside and people go by honking the horns on their cars."
The menu at La Fraise is not expected to change much with Mr Hill saying that they already sell "Kronenbourg and French fries".
"It's light-hearted partly," he says. "It's a bit of fun but it's also getting a message across that everybody is behind the team."
United's squad already boasted six French nationals before the latest spending spree proved just how tight a grip the club has on the Gallic market.
Chief scout Graham Carr - father of the comedian Alan Carr - was judged so integral to Newcastle's success that he was handed an eight-year contract last June.
Carr and his team have built up such an encyclopaedic knowledge of the French division Ligue 1 that Newcastle are only a goalkeeper away from fielding an all-French starting line-up.
Sabine Rondet, who runs translation business Fenham French in the city, does not believe her compatriots will have many problems getting used to the dressing room lingo.
"The players may have the basics," she says. "I would imagine for football there will be a lot of key words that will be English anyway.
"For the purposes of training and dealing with the manager it will probably be relatively straightforward.
"Where they may struggle a bit more is out in the shops and so on.
"In France you learn BBC English, you don't learn Geordie, so it's a little bit of a shock to the system."
Ms Rondet has been slightly disappointed with the French food offered on Tyneside since moving to Newcastle 12 years ago.
"People think French cuisine is very sophisticated but quite often it's simple, hearty food with great taste," she says.
"The French restaurants around here tend to be very expensive and do complicated dishes."
But she is confident the new signings will soon feel comfortable and find plenty to do after training.
'Welcoming place'
"I would tell them to try the Tyneside Cinema, she says. "It has lots of foreign films and quite regularly has French films. It's quite nice because they are subtitled."
Ms Rondet says the players will also find themselves bumping into other French ex-pats around the city.
"In Newcastle there are quite a lot of French students who are here for a year or maybe two," she says.
"There are also the professionals with companies like IBM and Proctor and Gamble.
"I decided to stay here because it really felt like home, it's a different culture but quite often people are really interested after hearing that you're French. Newcastle is a welcoming place."
Emma-Claude Phillips, owner of the French Oven bakery in the city centre, has been busy preparing "goody bags" for the new boys.
"I wanted to try and give them a slice of home," she says. "... The Newcastle crowds are really supportive and I think they will have a great time here."