Mary Ann Cotton's prison letters sold at auction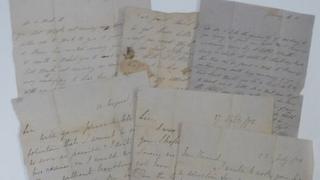 Prison letters sent by Victorian serial killer Mary Ann Cotton have sold for £2,200 at auction.
Cotton, of West Auckland, County Durham, was hanged in 1873 for the murder of her seven-year-old stepson.
It is thought she was responsible for the deaths of up to 20 others, mainly by poisoning her victims.
The letters, which make reference to solicitors and financial problems, were sold to a dealer at an auction in Leyburn, North Yorkshire.
The correspondence was addressed to a man who had lodged at Cotton's home.
Paul Hughes from Tennants Auctioneers said the auction was very busy.
"I haven't had anything in the past that has generated this amount of interest," he said.
Mr Hughes said it was possible the letters would be re-auctioned.
Cotton was caught when a post-mortem examination on one of her children revealed arsenic poisoning.
It is thought she killed three of her husbands and 15 of her children.