Durham Miners' Gala saved after public appeal for cash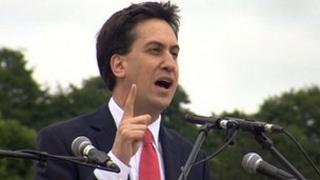 The Durham Miners' Gala will continue for at least the next two years after a successful fundraising campaign.
The future of the "Big Meeting", which was first held 142 years ago, was in doubt after a failed legal case last year left organisers with a £1.4m bill.
But a public appeal has secured enough cash to cover the £60,000 annual running costs up until 2014.
Labour leader Ed Miliband, who spoke at the 2012 gala will not attend this year but has pledged to return in 2014.
Dave Hopper, general secretary of organisers the Durham Miners' Association, said: "We've had a lot of public support and are confident we can put on the gala this year and next.
"It costs us £28,000 just for all the different brass bands.
"To add to our usual problems, we were informed last year that we had lost a legal case on behalf of former miners who are suffering from osteoarthritis of the knee in the Court of Appeal. We now face legal costs which may well exceed £1.4m.
"However, we are confident that we have sufficient friends who want the gala to continue and who are prepared to contribute on a regular basis."
Ed Miliband's appearance at the 2012 gala was the first by a Labour leader for 23 years.
The gala - a celebration of the region's mining heritage and links to the trade union movement - regularly attracts tens of thousands of people to the city's racecourse every July.