Climate change threat to Northumberland rock art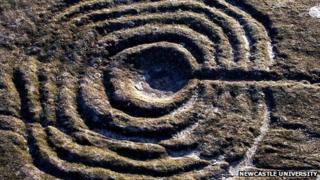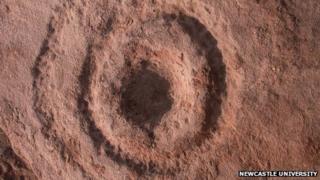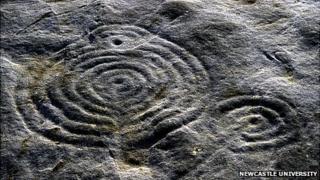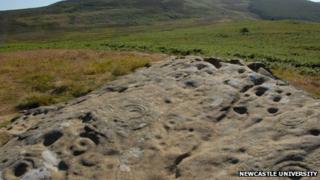 Ancient rock art in Northumberland, thought to be up to 6,000 years old, could disappear because of changing weather conditions, experts warn.
Newcastle University researchers have called for urgent action to protect the Neolithic and Bronze Age carvings.
The team studied examples across the county and found they were at risk from the UK's warmer and wetter climate.
They are now developing a toolkit for landowners to identify and protect rock art which is most at risk.
Hundreds of examples of rock art have been found across the north of England, most thought to be between 4,000 and 6,000 years old.
They are mostly found on sandstone and the decoration is usually of cup-like features or complex patterns of cups, rings and grooves.
Soil moisture
David Graham, professor of ecosystems engineering, said: "Our findings show that predicted changes to our broader environment, such as more wind and warmer, wetter weather, could have a devastating effect on these artworks.
"If we want to keep them, we need to start looking at how we can preserve them now."
Dr Aron Mazel, director of the International Centre for Cultural and Heritage Studies at the university, added: "People think rocks are permanent, but sadly, this is not the case and some of the world's most interesting art could be at risk.
"We need to act now if we want this art, which was created by humans thousands and thousands of years ago, to be there in the future."
The university team studied 18 rock panels and looked at the effects of factors such as soil moisture, salinity and height.
They found that the height of a panel and soil quality had the most potential impact on stone deterioration.
The team is conducting further research in other locations in the UK and the Republic of Ireland to understand how rock art created on other stones may be affected.