Newcastle Hoppings Fair postponed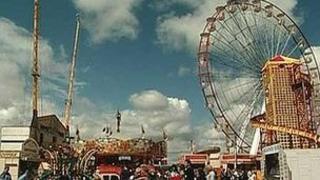 Newcastle's annual travelling fair, the Hoppings, which is continually blighted by rain has been postponed, council bosses have confirmed.
Last year the fair on the Town Moor only ran for a few days because heavy rain waterlogged the field.
Now Newcastle Council has cancelled the event in June because the moor is still damaged but said it hoped it could be held later in the year.
The council said it was a difficult decision to put the event on hold.
The fair has been coming to Newcastle for 130 years. Last year it was postponed for a few days because the field was waterlogged.
The 40-acre site underwent a 12-week programme of drainage and repair work last year, but months of rain and snow has left it in a poor state, the council said.
'Fragile condition'
Gerald Bell, chairman of the Town Moor Joint Working Group, said: "The Hoppings is one of the most exciting and eagerly anticipated events on the city's cultural calendar so it's with great regret we have had to consider postponing this year's event.
"We have been working closely with the Freeman of Newcastle to make sure the Town Moor site was ready for this year's annual funfair but months of constant poor weather have meant the land is still in a fragile condition.
"We think it is in the best interests of the event and the long term interest of the Town Moor itself to seriously consider the option of postponing and rescheduling this year's event."