Cheviot Hills trail to undergo repairs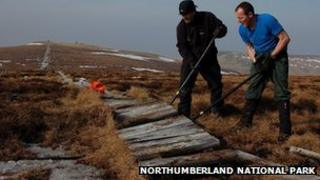 Rangers are to carry out repairs on the Cheviot Hills in Northumberland to help restore damaged footpaths and peat soils.
More than one kilometre (0.62 miles) of the Pennine Way trail is to be paved with recycled sandstone with the help of £160,000 from Natural England.
A National Park Authority spokesperson said the upgrades were "vital".
National Park Authority officer Lorna Lazzari said they were "delighted" to have the funding.
"When footpaths become waterlogged, people will naturally divert off the path on to the fragile vegetation," she said.
"This results in large patches of erosion along well-used routes and much greater damage to both the peat soils and the footpath."