Durham County Cricket club gets £2.8m loan before Ashes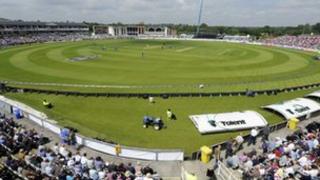 A second loan of £2.8m has been granted to Durham County Cricket Club (DCCC) as it prepares to host its first Ashes Test this summer.
The North East Local Enterprise Partnership (LEP) has agreed to the funding days after Durham County Council pledged the same amount.
An initial £1.2m will be spent on extra seating at the club's Chester-le-Street ground.
The investment will create jobs and boost the region's economy, DCCC said.
The club made the plea for financial support to help sustain international fixtures.
It said an independent report found the club would contribute almost £20m to the local economy this year.
Chairman Clive Leach said the support from the council and LEP would "continue to cement the North East's place on the international sporting map".
The local authority defended its decision to agree a grant despite having to cut 1,600 jobs as it attempts to save £200m by 2018.
Paul Woolston, chair of the LEP, said cricket at Durham helped "attract global, national and local visitors to the area".
The loan is expected to be repaid within seven years.