Game of Thrones actor Clive Mantle has part of ear bitten off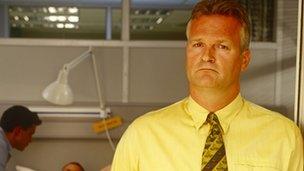 A former actor in BBC medical drama Casualty has had part of his ear bitten off at a Newcastle Travelodge.
Clive Mantle, who also stars in US drama Game of Thrones, was attacked at the Forster Street hotel in a dispute over noise, his agent said.
The 55-year-old from Bath had finished a run in The Ladykillers at the Theatre Royal. The ear has been sewn back on.
A 32-year-old man from Hamilton in South Lanarkshire has been charged with wounding with intent.
He will appear before magistrates next month following the attack in the early hours of Sunday.
A spokesman for Mr Mantle's agent, London-based Sarahband Associates, said surgeons at Newcastle's Royal Victoria Infirmary had managed to sew the top part of the actor's right ear back on.
He said he believed Mr Mantle was pinned to the floor in the hotel and attacked after asking other guests to keep the noise down.
He said: "He is very shaken and shocked by what has happened, you don't expect this kind of thing to happen in a hotel.
"The part of the ear that was bitten off was found and sewn back on. Mr Mantle said the police, ambulance and hospital staff were amazing."
The Ladykillers finished its run in Newcastle on Saturday but its tour is due to continue in Salford on Tuesday.
Laura Myers, publicist for the play, said: "Clive doesn't yet know when he will be able to rejoin the cast and feels he must mention the ambulance crew, police and hospital staff who were all superb.
"Fiery Angel, producers of The Ladykillers, are horrified by the events of Sunday morning and are doing everything they can to ensure Clive has a speedy recovery."
A Travelodge spokesman confirmed that emergency services were called to the Newcastle Central Travelodge in the early hours of Sunday morning after an incident involving two guests.
"As this is a live police investigation, we cannot offer any further comment at this stage, but we can confirm we are working very closely to assist Northumbria Police with their investigation," the spokesman added.
"Travelodge's number one priority is the health and safety of customers and staff, and we do not tolerate any form of harmful behaviour on our premises towards our customers or staff members."
Another man has been released on bail in connection with the attack and a third man released without charge.
Mr Mantle played surgeon Mike Barrett in Casualty and spin-off series Holby City for more than nine years.
He also featured in the first season of Game of Thrones as Lord Greatjon Umber.
In the 1980s he co-starred in the TV series Robin of Sherwood as Little John.
Related Internet Links
The BBC is not responsible for the content of external sites.