Boulmer search and rescue: Mountain rescue 'busier'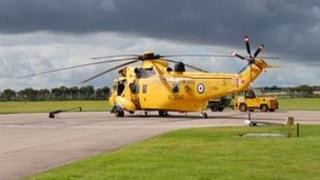 The removal of search and rescue operations from Northumberland's RAF Boulmer will leave mountain rescue teams busier, it has been claimed.
Pete Roberts, from Northumberland National Park Mountain Rescue, said he anticipated "a change of emphasis" in their calls outs.
Berwick Liberal Democrat MP Alan Beith said it would have "no effect at all" on the base itself, which remains open.
The UK helicopter search and rescue contract has been won by Bristow Group.
The service has been provided by the RAF and Royal Navy for 70 years.
Old RAF and Royal Navy Sea King helicopters will be replaced with 22 modern Sikorsky S-92s and AgustaWestland 189s on 10 bases around the UK.
The nearest to the north-east of England will be Humberside airport.
Quicker service
Mr Roberts said his team and the North of Tyne Mountain Rescue Team would find themselves being called out more often in cases where a flight from Humberside would take too long.
But he said there would be "no reduction in service".
"People will get as good a service from us as anybody," he added.
Mr Beith said most of RAF Boulmer's other work would be unaffected but admitted it was "a matter of regret" that Northumberland had not been chosen as a location for one of the new bases.
"There will always be places which are closer to the centre of operations wherever you put the bases," he accepted.
"There's good reason to believe that the system and, indeed the new helicopters, will be able to do the job extremely well."
The government said the new operation "will be able to reach a larger area of the UK search and rescue region within one hour of take off than is currently possible".