Signed Sir Bobby Robson shirt stolen from children's ward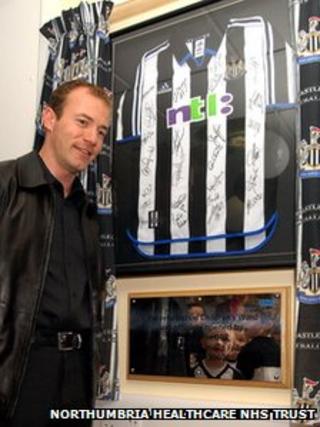 A Newcastle United shirt signed by the late Sir Bobby Robson has been stolen from the children's ward of a hospital.
Health officials said patients and staff at North Tyneside General Hospital had been left "heartbroken" by the "callous theft".
The 2002 shirt, also signed by Alan Shearer and other players, was taken from its frame in the play room of the ward between 15 and 17 April.
Sir Bobby died in 2009 after his fifth battle against cancer.
Newcastle United has a long-standing relationship with the ward.
In 2002, Alan Shearer opened the refurbished ward and players come to the hospital at Christmas to give presents to the young patients.
'Mindless theft'
Ward manager at the North Shields hospital, Carole Clayton, said: "We just can't believe that someone would stoop so low. The staff and children are heartbroken and really angry and upset.
"We were so pleased that the shirt was donated to the ward and it has given pleasure to the thousands of families who have used the ward over the last 11 years. For someone to take this just beggars belief."
A Newcastle United spokesman said: "We're told the children love looking at the shirt and often try to identify the names of the players, such as Alan Shearer and Shay Given, so it's really a very callous act by whoever was responsible for this thoughtless and mindless theft."
A spokesman for Northumbria Police said: "This shirt was very popular with the children on the ward and we are appealing for the public's help to identify the heartless thief who stole it.