Sunderland's Penshaw to Fatfield bridge reopens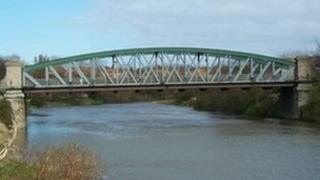 Sunderland's oldest river crossing has reopened after repairs costing £600,000.
During the final part of a six-month renovation project, the Penshaw to Fatfield bridge's stone pilasters were repaired.
The bridge across the River Wear links Station Road on the south to Worm Hill Terrace on the north side.
The oldest crossing overseen by Sunderland City Council, the bridge dates back to the 1890s.
Work, which began in September, involved stripping the road surface down to the bridge deck and installing new waterproofing, resurfacing, steelwork repairs and a full repaint.
New traffic signals have also been installed.
Councillor James Blackburn, Sunderland City Council's portfolio holder for city services, said: "It's great to see our oldest river crossing restored to its former glory.
"This is the most comprehensive refurbishment the bridge has seen since its construction in the 1890s.
"The work should help ensure that it stays in reliable condition for many years to come."