Newcastle Stephenson Quarter development to go ahead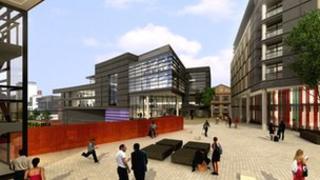 Plans to develop a central area of Newcastle will finally go ahead after banks approved funding.
The Stephenson Quarter scheme is expected to create 2,200 jobs, including about 325 in construction.
The 10-acre site behind the Central Station will feature apartments, businesses and an art gallery.
Developer Silverlink gained planning permission in 2008, but work was delayed due to difficulty in securing funding following the financial crisis.
Newcastle City Council bought the land for £10m, allowing Silverlink to buy sections back as and when it was ready to build, giving it more cash to finance the scheme.
The company has now agreed a funding deal with Aviva and Royal Bank of Scotland so that work can begin immediately.
The four-star Crowne Plaza hotel and 35,000 sq ft of offices will be built during the first phase of construction, which will last two years and create nearly 500 permanent jobs.
The rest of the work is expected to be completed in the following four years up to 2019.
The development will restore some significant heritage buildings, including the offices at 20 South Street, where Robert Stephenson's engineering works produced locomotives for the first railways in the 1820s.
Council leader Nick Forbes said the project would "unlock development and help create much needed jobs and growth."